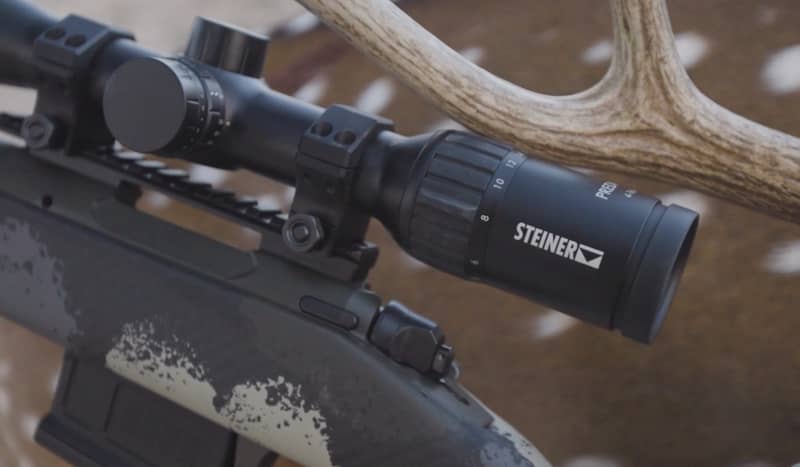 In this review, we'll take a look at some of the new glass being offered by Steiner Optics in their Predator Line.
Recently, while in west Texas hunting Aoudad, I had the opportunity to chase what has probably become my favorite animal to hunt, the Axis deer.  I am not just talking about my favorite in Texas either, I am talking like all time number one.  Don't get me wrong, I like to hunt many other animals but, for me the Axis checks all the boxes.  They are a unique deer species that shed their horns every year based on when they were born rather than all at the same time.  That means that you can be hunting both hard horned and velvet bucks at the same time.
On top of that, they are in my opinion, the most beautiful deer species out there.  Not only do they make a stunning shoulder mount but their hid can also be used to adorn the man cave with various other items.  Whether that is a full tanned hide laid down as a rug or a couch throw or my favorite accent items, Axis pillows.  I currently have two pillows on one of the couches and everyone talks about them. this trip to Texas was a perfect excuse to get back out there and rustle up a buck for two more pillows on the other couch…..but I digress.
As if those reasons above were not enough to convince you I can attest that Axis meat is probably one of the best tasting wild game meats out there.  For me Axis is far and above my number one favorite.  Great for steaks and will make a mean burger too, honestly, I haven't had it in a way that has left me feeling disappointed.  Usually it is quite the opposite, full to the brim with a hearty meal and fighting off a food coma.  On this hunt I was using the Springfield Waypoint topped with the new Steiner Predator 4 in 4-16×50.  This was a new scope I had never used before, and I was very impressed.
The scope itself comes in several different magnifications and boasts all the things that I like to have on my hunting rigs.  I very much prefer the 4-16x as it gives you enough to dial down for those unexpected close shots but also the ability to dial up when shooting at range.  The scope features and variable power illuminated reticle as well for those low light situations which is a definite plus.  Included accessories were the battery for the reticle, lens cloth and lens covers.  MSRP is approximately $1,149.99 depending on which model and magnification you select.  For more information on the Predator 4 or any of the other awesome Steiner optics head over to steiner-optics.com and check them out for yourself.